Discipline, organization, integrity, and dependability - these are many of the great qualities that a person with a military background usually possesses. This makes veterans ideal for running their own small businesses. As challenging as transitioning from military service to civilian life can be, many veterans have embarked on the journey of entrepreneurship. Things such as business training or small business loans for veterans sometimes can be hard to navigate. Therefore, we have created a list of available resources that veteran entrepreneurs can utilize.
Resources for Veteran Entrepreneurs
Funding for Small Veteran-Owned Businesses
Small Business Association (SBA) Loans: Under unique eligibility requirements, the SBA offers a wide variety of loans to small businesses. Particularly, the 7(a) loan is among the most popular loan programs. Though the terms and conditions may vary based on the type of loan, generally, 7(a) loans offer low-interest rates and cater to various business needs. In addition, specifically for veteran-owned businesses, the SBA also offers fee relief on small-dollar guaranteed loans. First Liberty can help with the SBA loans process.

Business Training for Veteran Entrepreneurs
The Veteran Entrepreneur Portal: Serving as a great initiative of the U.S. Department of Veteran Affairs, the Veteran Entrepreneur Portal. Besides advice on starting and financing a business, the portal also provides veterans with special information, such as how to obtain a Veteran-Owned Small Business certification or how to win government contracts.
The "Arming You for Success in Entrepreneurship" (ARSENAL) Programs: The Institute for Veterans and Military Families (IVMF) created the ARSENAL programs with a view to supporting veterans and their families. The different programs include Ideation, Start-up, and Growth. The IVMF also has a large alumni network and a wide array of resources to help veterans and their families gain access to various entrepreneurial opportunities.
First Liberty Building & Loan- An Expert in Small Business Loans for Veterans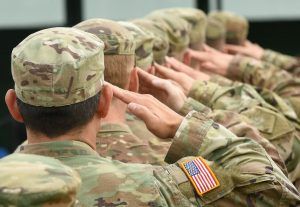 At
First Liberty Building & Loan
, we understand the challenges that veterans face when transitioning from military service to civilian life. That's why we're here to help make that process easier and provide veterans with the funding that they need to fulfill their entrepreneurial dreams. Military veterans make great entrepreneurs, and we would be honored to be a part of their entrepreneurial journey.